Sukiya Living Magazine (JOJG) Issue #70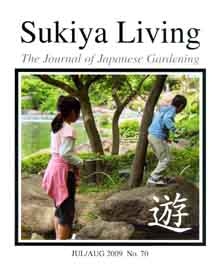 July/August 2009
Contents:
Cover Photo: Heisei Teien, in Tokyo.
Publisher's Essay: New, Myth-busting Tends.
Viewpoints: My Favorite Garden. Essays by Palmer Koelb, Takanori Adachi, Tamao Goda, Pavel & Romana Cihal, Tony Bishop, Adrian Bennett, and Clifton Olds.
Research: Japanese Gardens West and East, by Miyuki Katahira Manabe.
Pond Construction: Edge Restoration, by Asher Browne.
Advanced Pruning: Trees that Cascade over Water.
Architecture: Shoin - A Confusing Term.
Tools, Tips, and Techniques: Nemawashi, by Asher Browne.
Interiors: The Step-chests of Japan, by David Jackson.
Leadership Profile: Charles Oesterly.
Book Review: "Shots in the Dark," by Shoji Yamada.
Calendar of Events.
Sukiya Living Marketplace.
Back Cover: "Shower of Water Striders," by Kuniyoshi.