Sukiya Living Magazine (JOJG)
Japanese Joinery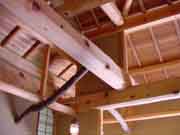 The Japanese house, like post and beam homes in the West, is comprised of many different components. These include the obvious posts and beams, together with purlins, girts, rafters, braces, and a host of other members. The similarities start to diverge, however, when one starts to consider topics such as wood joinery methods, frame proportion, and finish details. Whereas the heart of a Western timber frame home is its sturdy and prominent frame, the Japanese home is essentially a large piece of Japanese furniture, with a modest, understated frame and myriad smaller members that come together into a unified whole.
In traditional Japanese houses, the finish quality of the woodworking and the wood joinery itself are refined and considerably complex. Hundreds of different joinery techniques can be employed in one modestly-sized building like a sukiya style home or a Japanese tea house. Such well developed timber joinery is the result of a Japanese carpentry tradition that is more than 1,000 years old.
The Japanese Garden Journal publishes regular articles about Japanese joinery, Japanese woodworking, and the techniques used in Japanese timber frame construction. Articles include topics such as post and beam framing, dovetail joinery, tenon joinery, and many of the more refined techniques necessary to build a Japanese tea house or sukiya-style residence. Some sample articles are posted below for your review.
---------------------------------------------------------------
WHAT IS JAPANESE JOINERY? This article covers the basics of Japanese carpentry and Japanese wood frame construction.
JAPANESE WOOD JOINERY METHODS What is the difference between Western style joinery and the joinery practiced in Japan? Read this article to find out.
TIMBERFRAME JOINERY This article describes the most common wood joints found in both Western timber frame homes and Japanese structures. Japanese terms are offered for each joint and its components.
SCRIBE-FIT JOINERY Scribe-fit joinery is the traditional Japanese woodworking method for fitting one round or irregular timberframe member against another. This article describes how the top of a square post can be formed to fit a round roof purlin. If you are interested in Japanese tea house design or in actually building a Japanese tea house, this article is worth reading.
SEWARI KERFING Japanese lumber mills have developed a technique for controlling checking, ensuring that cracks appear only on the least visible side of the member. This time-intensive technique called sewari kurfing is usually applied to the high-quality wood used in timber frame homes, but it can also be applied to reclaimed lumber and pressure treated lumber. Read this article to learn more.
JAPANESE HOUSES AND THEIR CONSTRUCTION This article chronicles the construction of one modestly-sized sukiya-style building, from start to finish. The article is based on a remarkable Japanese-language book with the same theme.
JAPANESE FURNITURE JOINERY This article discusses the joinery used in Japanese furniture such as tansu and shoji screens.
---------------------------------------