Japanese Garden Journal
Healing Gardens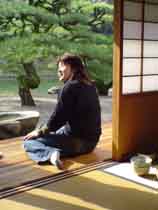 Some might say that All Japanese gardens qualify as healing gardens. While few Sukiya Living Environments are constructed specifically as meditation gardens or for horticultural therapy, few would argue that they have an almost magical ability to soothe the soul and perhaps even heal our bodies.
The science of Environmental Psychology is starting to explain why green views and other types of therapeutic gardens help us lead healthier lives. Recent research projects conducted at institutions such as the University of Michigan and Texas A&M prove that it is entirely possible for manmade green spaces to psychologically, if not physically, rejuvenate the spirit. This concept is not a new one in Japan, where garden windows and sensitive living room designs have been rejuvenating families for centuries.
JOJG has published numerous articles about how inspired garden builders are adapting the Japanese garden tradition to medical applications. This is also an area where we hope to expand our offerings in the future. Posted below are a healthcare-related JOJG articles for your review:
-------------------------------------------------------------
GREEN VIEWS This 6-page article by Heather Blum advances healing gardens and the application of Japanese gardens to medical facilities. Titled "Green Views in the Healthcare Environment," the article discusses various quality of life factors and explains how garden windows can accelerate recovery after injury, illness, or surgery. A Japanese garden created for clinical purposes can consist of anything from a quiet meditation garden to a garden window that looks out upon a natural scene.
WHAT IS ENVIRONMENTAL PSYCHOLOGY This relatively new field of medical science explores how the environment around us affects the way we think and behave. Read this article to learn more.
HOSPITAL GARDENS This article examines both old and new trends in hospital garden design. Some of the top hospital gardens in America are examined, including the new exciting Japanese garden that has been created by Kurisu International at the Samaritan Hospital in Lebanon, Oregon.
THE HEALING GARDEN What does a healing garden look like? How does it function? What qualities does it bring to our lives? This article examines these and other questions.
SAMARITAN LEBANON COMMUNITY HOSPITAL This article introduced our readers to the healing garden at the Samaritan Lebanon Community Hospital, in Lebanon, Oregon. Created by Hoichi Kurisu, this Japanese-style garden is completely surrounded by the hospital building, with a garden window providing views from almost every interior space. Of particular interest is SLCH's cancer treatment center.
ADA ACCESSIBILITY Recent Western trends have emphasized so-called "healing spaces" that are entered and walked through. Japan's tradition, however, emphasizes gardens that are not physically entered, but instead are viewed from a seated position from inside the home or healthcare facility. This makes the garden space truly "accessible" even for patients who can not walk.
DESIGNING A QUIET MEDITATION GARDEN This article takes you step-by-step in evaluating your building and garden site. The emphasis is placed not just on the garden space, but also on the building and interior spaces.
HORTICULTURE AND OCCUPATIONAL THERAPY This branch of Western medical science isn't exactly in line with the more visually-oriented Japanese garden tradition, but it is certainly worth examining how they might overlap.
---------------------------------------