Japanese Garden Journal
Japanese Maple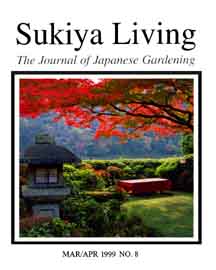 Japanese maple trees are important accent trees and supporting cast members in Japanese gardens. Known as momiji in Japanese, the Japanese maple tree is rarely used as a specimen tree. Instead it is used in less obvious roles to provide a mood of delicate foliage and dappled sunlight.
The Japanese red maple is popular in the West, but in Japanese gardens it takes a back seat to the green "species tree" that is commonly seen in both gardens and mountainsides throughout Japan. Dwarf Japanese maple varieties and other unusual cultivars are likewise used sparingly. This is not to say that varieties such as the bloodgood Japanese maple or the lace leaf Japanese red maple couldn't be employed in YOUR Japanese garden. But in Japan, at least, homeowners and garden builders seem to prefer the subtle and translucent green tones of the species tree.
JOJG publishes regular articles about Japanese maples. Topics range from the purchase and care of a Japanese maple to growing a Japanese maple from seed. JOJG has published many articles about Japanese maple pruning as well as a few about Japanese maple disease. The articles can generally be grouped into the following categories:
-----------------------------------------------------
JAPANESE MAPLES VARIETIES There are a mind-boggling number of different Japanese maple cultivars available in the nursery trade. These articles evaluate different cultivars and try to help JOJG readers decide which to purchase.
JAPANESE MAPLE CARE These articles discuss specifics about Japanese maple cultivation. Included is the "biology" of Japanese maples as well as details about growing and caring for this beautiful tree.
JAPANESE MAPLE PRUNING Everyone seems to want to know how to prune Japanese maples. It's not as difficult as everyone thinks. Read these articles to learn more.
JAPANESE MAPLES & JAPANESE GARDENS Japanese maples play a role in Japanese gardens, but not because they're "Japanese" and not because Japanese homeowners enjoy collecting fancy cultivars. The truth is more subtle and related to the delicate aesthetic qualities unique to momiji.
DWARF, LACELEAF & WEEPING JAPANESE MAPLES Listed here are some of the unusual physical characteristics that can be found in the Acer palmatum species. You won't often see these features in Japanese gardens, but JOJG occasionally covers them nevertheless.
JAPANESE MAPLE SEEDS Some JOJG readers want to grow Japanese maples from seed. This is difficult to do with cultivars, but it is entirely reasonable if you seek to grow the species tree. These articles talk about how (and how NOT) to grow Japanese maples just like mother nature grows them.
------------------------------------------------------