Japanese Garden Journal
Japanese Carpentry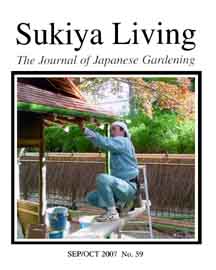 Japanese carpentry is at the heart of the Sukiya Living Environment. The ample use of natural materials and the sublime execution of delicate proportions, details, and finish are what elevate Japanese carpentry to an elite status in the world of woodworking.
The Japanese word for carpenter is daiku. Japanese carpenters are involved in many types of woodworking, but the core daiku job focuses on timber frame homes and the joinery used to create them. The traditional Japanese house is much more than a timber frame in the Western sense. The quality of surface finish and wood joinery seen in each room of a Japanese home are of furniture quality throughout. It is as if a cabinetmaker built an entire house by hand. The quality extends, not just to the timberframe itself, but to every visible surface and detail.
Japanese carpentry reaches its zenith in teahouse carpentry. Indeed, many of the techniques and surface treatments seen in Japanese homes are directly related to the Japanese tea house and the sukiya style of architecture. For example, the size of framing members such as posts and beams are proportional to the size of the rooms they frame. Wood surfaces are hand planed and not covered by paint or varnish. Unusual textures can be seen in shoji doors and wickerwork ceilings. And complicated wood joints are used but not in an ostentatious way.
The same craftsmanship seen in the Japanese house is on display outdoors in Japanese garden gates and teahouse-like outbuildings such as gazebos and tea ceremony waiting benches. While bamboo fences are the domain of Japanese gardeners, wooden fences and Japanese garden gates are usually constructed by Japanese carpenters. Beautiful wooden gates are, of course, one of the hallmarks of high-quality Japanese gardens, and nearly every Japanese garden can be enhanced by the addition of an elegant gate design.
JOJG strives to publish at least one carpentry-related article in each issue. Some articles focus on Japanese joinery and woodworking techniques, while other articles touch on subjects such as architecture, Japanese furniture, and interior design. Here are some of the general article categories:
---------------------------------------------------
TRADITIONAL JAPANESE JOINERY These articles explain how wood members are assembled to create structures such as homes and furniture.
TEAHOUSE CARPENTRY The elegant carpentry employed in Japanese tea houses is sometimes called "rustic" but it is actually among the most refined woodworking found anywhere. These articles are about tea houses and teahouse construction.
TIMBER FRAME HOMES The traditional Japanese house is a timber frame with an infill wall system. These articles discuss timber frame construction as it applies in Japan.
JAPANESE GARDEN OUTBUILDINGS The tea house is just one form of Japanese garden building. Others types of buildings include Japanese-style gazebos and tea ceremony waiting benches.
JAPANESE GATES The Japanese garden gate comes in many sizes and styles, but the techniques and proportions are fairly uniform. These articles are about Japanese gate design and construction.
JAPANESE-STYLE GARDEN SHEDS Many JOJG readers have expressed an interest in constructing what they call "Japanese garden sheds." This style of building sometimes exists adjacent to (but not in) Japanese gardens. These articles explore the subject and offer some design and construction suggestions.
------------------------------------------------------