Sukiya Living Magazine (JOJG)
Japan Travel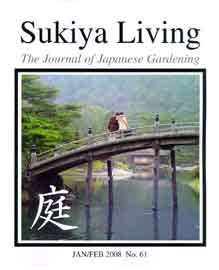 Sukiya Living enthusiasts inevitably dream about visiting Japan. Reading about Japanese homes and gardens is wonderful. But that can't compare to the magical experience of visiting them in person.
Traveling inside Japan, however, isn't the easiest thing to do. Despite it's modern appearance, Japan always seems to be so different in so many ways. Travelers who have no trouble zipping around Europe and other parts of the World can be completely puzzled by what they face after stepping off an airplane in Tokyo. Many of the challenges involve dealing with the Japanese language. Other difficulties stem from Japan's unique way of doing things. Traveling in Japan is always an adventure, and it's never easy.
JOJG publishes regular articles that attempt to explain and demystify Japan. Some of the articles involve cultural differences, while others articles explain typical situations that a traveler might encounter. JOJG staff members each spend several months of each year guiding tours in Japan, so we are well-versed in the challenges that visitors face. We try to provide travel guidance that is helpful and oriented to the needs of our readers.
JOJG's travel-related articles can generally be grouped into the following categories:
-----------------------------------------------------
PLANNING YOUR TRIP TO JAPAN Where should you go and what should you do? Should you use a professional tour company or go at it alone? What are typical concerns about traveling to Japan? These article will help you plan your trip and more.
JAPANESE CULTURE AND CUSTOMS These articles examine unique Japanese customs that a visitor might encounter while in Japan. The articles explain topics such as how to properly remove your shoes (it's more difficult than you think!), how to take an ofuro bath, and what kind of gift to present to your Japanese host.
JAPANESE FOOD FACTS These articles are about Japanese food and how to eat it. There's must more to the Japanese food tradition than just sushi. For example, did you know that curry rice is the #1 most consumed dish in Japan? Read these articles to learn about subjects such as Japanese meat dishes, how to order in a restaurant, and how to properly slurp your noodles.
JAPANESE HOTELS Click here to learn more about the various lodging options you have while you travel in Japan. These articles are about subjects such as how to book a room at an onsen spa, and what to expect if you stay at the type of Japanese inn known as ryokan.
MOVING ABOUT INSIDE JAPAN How do you find a travel agent in Japan? How do you purchase Japan rail pass tickets? Where is the Japan travel bureau nearest your destination? Articles in this group discuss these and similar subjects.
SIGHTSEEING These articles are about things to see and do while you're there. Some of these articles were written by JOJG subscribers describing their own trips and experiences.
YOUR JAPAN MAP Everyone, it seems, is looking for a map of Japan, a map of Tokyo, or a Japan railway map. These JOJG articles use detailed maps to explore some of Japan's most traveled geographic areas.
WALKING TOUR OF KYOTO Each year JOJG organizes at least one tour that explores the gardens, architecture, and cuisine of Kyoto. We try to avoid the typical tourist circuit and instead explore Kyoto's most charming neighborhoods and rural areas. Along the way we visit private homes as well as the studios of artists and craftspersons. Click here to learn more about this one-of-a-kind culturally rich experience: TRAVEL TO JAPAN!
------------------------------------------------------